ENGAGE Coach Accreditation Training
Time: 2 days
Private training. Public courses on demand.
8-12 participants per course.
Pre-requisite: attendees must have completed the two-day ENGAGE sales training program.
In order to fully embed ENGAGE tools and techniques and to support sustainable change within your organisation, we often recommend that clients introduce and accredit internal ENGAGE coaches.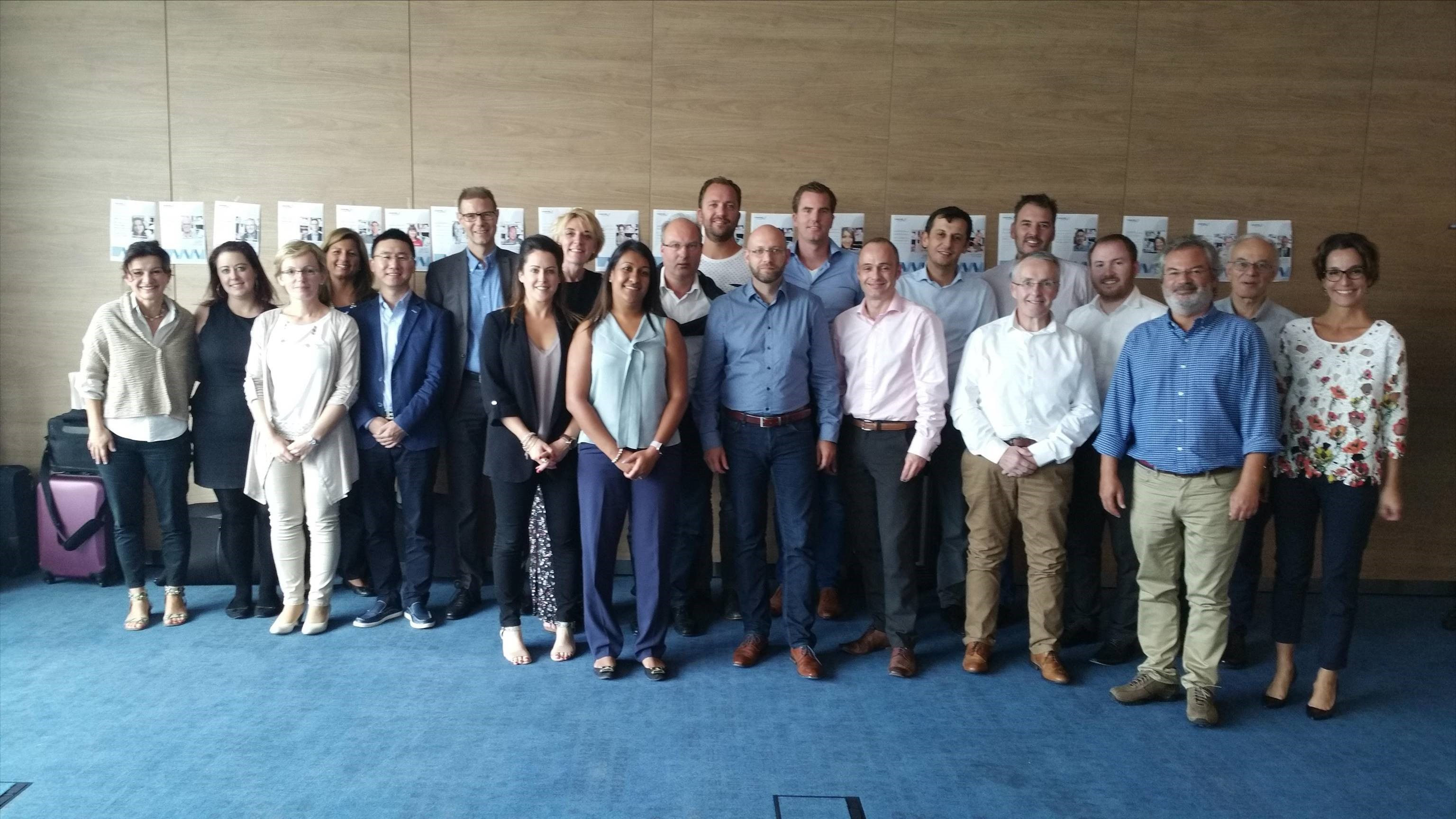 A new group of in-house coaches for VWR in Europe.
Identifying coaches within your organisation
Coaches are usually identified and trained before the general training program is rolled out so they can support the participants to implement what they have learned as soon as they leave the training. They may or may not be people who are recognised as rainmakers within the firm (in fact, sometimes its better if they are not), but they are regarded as influential, have shown a strong interest in client relationships, and have demonstrated a personal commitment to the program and using the tools.
Additional coaches can also be identified from high-performing alumni of the ENGAGE program.
Why get accredited in ENGAGE?
The aim of the program is to deepen the coaches' knowledge of the tools covered by ENGAGE, improve their ability to use all the tools personally, and strengthen their ability to coach teams and individuals by applying the ENGAGE tools in a variety of coaching scenarios. This will allow the participants to be able to:
more confidently use the tools themselves.
coach individuals on desired sales behaviours, using specific tools.
coach teams in preparation for activities such as group client meetings and presentations, using the ENGAGE tools.
review and provide feedback on bids and sales documents drafted by staff.
confidently explain in detail each tool, what is behind it and how to use it.
run short training sessions for staff who will not be attending the full program so that the firm develops a common language and more junior staff are being trained in the correct way early in their careers before behaviours become harder to change.
run short refresher training sessions for alumni of the ENGAGE training program.
Outcomes for participants
By the end of the workshop participants will be able to coach individuals and groups in a way that motivates the coachee. This is particularly effective for coaching on the tools covered by the ENGAGE program.
In particular participants will be able to:
better understand their own behaviours and read the behaviours of the coachee.  This should help them understand the drivers behind the coachee and be able to motivate the coachee more effectively.
engage the coachee at the start of a coaching session and help the coach relax and engage.
build trust with the coachee quickly through asking engaging questions.
facilitate group coaching using facilitation techniques.
suggest ideas when necessary in a way the coachee finds engaging and motivating.
follow up coaching sessions in a concise manner.
switch between facilitative and directive coaching as and when necessary.
be better acquainted with and can explain all the tools covered in the ENGAGE program both in an 'elevator' type talk and in depth.
What to expect
To achieve this, 90% of the workshop is hands-on, with participants engaging in coaching simulations and presentations.  Since all participants have already attended the two-day ENGAGE workshop no introductions are made to any of the tools.  Activities covered in the program include:
A short 'elevator' presentation by each person on at least one of the tools, with feedback and coaching from The Business of Trust trainer.
A series of exercises prior to client interactions – helping coaches understand how to coach an individual and a team prior to a client interaction.
A series of role plays around common client situations, followed by coaching – to help people understand how to coach individuals after an interaction.
Lots of practice on each of the tools to create more fluency with, understanding of, and commitment to each tool, both in a client and a coaching situation.
Lots of peer coaching to help people get used to the notion of working as a coaching cohort.
At the end of the coaching program, participants are accredited as ENGAGE coaches by The Business of Trust. However, many of our clients, with our guidance, put in place additional accreditation steps internally that their coaches must meet in the 2-3 months following the training.
Customisation options
The ENGAGE Accreditation training is highly customised for each organisation. We ensure that the role plays undertaken are aligned to your company and industry, and we will always use your real-life sales materials and sales scenarios as part of the training program. We work closely with you prior to the delivery of the program to ensure it is customised to your needs.
Becoming an Accredited ENGAGE Facilitator
Many organisations we work with aspire to become entirely self-sufficient in training their teams in the ENGAGE methodology on an ongoing basis.  In these cases, we can certify a small number of people within the client organisation to be accredited to run the two-day ENGAGE program.
The process and training program for developing these facilitators is tailored in each case depending on the background, experience and ability of the potential facilitator/s.
The promotion of internal sales coaches at VWR in Europe.
Your facilitator/consultant
The ENGAGE Accreditation training program is run by Keith Dugdale or Julien Lepetit.
How to register
ENGAGE Coach Accreditation programs are usually undertaken as private courses within organisations. However, if you are interested in attending a public ENGAGE Coach Accreditation program, please let us know as these can be run on demand, or we can bring participants from 2-3 organisations together for a joint program.
For more details on the ENGAGE Coach Accreditation program, please contact us.